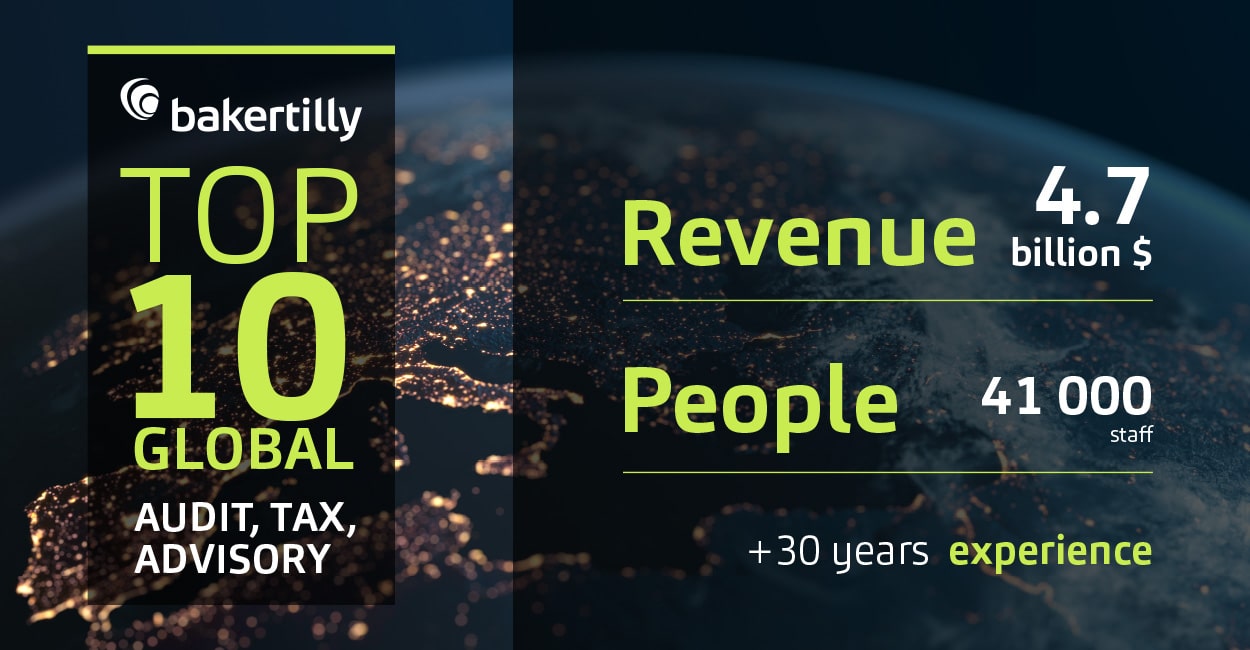 In 2017, STREGO joined the global network of independent expertise, audit and consulting firms, Baker Tilly. More and more of our customers are developing internationally and we must be able to support them in the face of the specific challenges which international business brings. To do this, we have chosen to rely on the Baker Tilly network, with strategic locations and contacts mastering the accounting, social and fiscal specificities of their country.
Our common potential has become obvious. We provide them with our expertise, our commitments and our access to French territory while remaining independent.
Being a member of the network also means benefiting from a collaborative approach. Strong ties unite the member firms. We can thus offer all our services beyond borders, working with firms present all over the world, and offer to support their clients in their plans to set up in France.
SHARED VALUES
We share common values with Baker Tilly and we have the same outlook on the world and the future. Our customers are our priority. We continue to support them in their development projects as we have always done, broadening our skills to the international market. Our ambition remains intact, guaranteeing a level of requirement up to each business challenge, thanks to an extensive consulting offer in accounting and social, tax, management and audit expertise.
Openness, high standards, commitment, trust, proximity …
EACH FIRM IS UNIQUE
Baker Tilly International has chosen to have one representative per country. This is the single point of contact for every customer, regardless of size. He coordinates all the missions undertaken by the various independent firms concerned, thus facilitating exchanges. Each country has its own specificities, each member representing mastery of the codes. Their knowledge and experience of the market is essential.
All firms remain independent, locally owned and managed. Country members adopt the network's brand while having a separate legal entity, thus contributing to its international strength.
A COLLEGIAL GOVERNANCE
To facilitate communication, coordination of actions and sharing of good practices, Baker Tilly International is covers four regions: EMEA (Europe, Middle East and Africa), Asia-Pacific, North America and Latin America, each supported by a regional council. A board of directors provides leadership and oversees the work of a team (Global Office) in charge of promoting, defining and implementing the network's strategic orientations.
SECONDMENT PROGRAM
It is a unique professional experience to develop your expertise, grow and experience the culture of another country, forge links with foreign colleagues, develop your career or increase your international technical knowledge. The program is open to all Baker Tilly employees with 2 years seniority. On return, the secondee goes back to the original job, under the same working conditions.
As part of our EXPLORE program, Léa Guyon, senior auditor in Tours, "dared to go international" by leaving for 3 months working in the Baker Tilly office in Washington. Discover her experience and the story of this great adventure!
BAKER TILLY MEMBER'S COMMITMENTS
Network members meet high quality standards :
Be exemplary,
Provide a quality service and a high level of requirement, on the local and global market,
Communicate transparently and fairly, consistent with who we are,
Respect professional ethics,
Encourage collaborative teamwork between all member firms,
Establish an environment conducive to the development of everyone.
 We are proud to be a member of Baker Tilly International, a global network of independent accounting and business consulting firms, whose member firms share our commitment to exceptional customer service. The international network gives us significant global reach in addition to our national presence. We work together to leverage our skills, resources and local expertise to help our clients grow locally, nationally and globally.
Thierry Croisey, President Baker Tilly